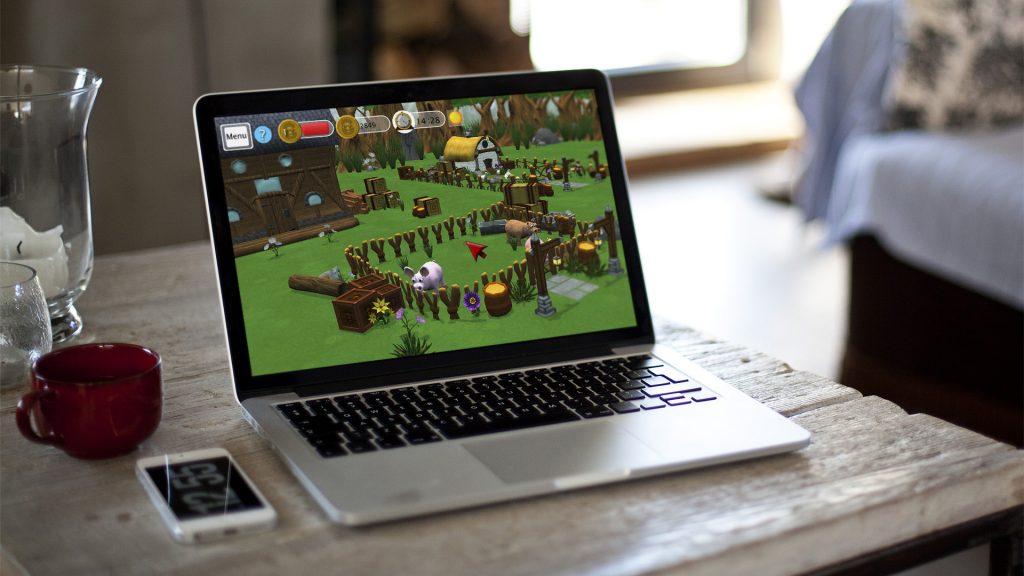 The Brief
---
Originally built for Epic Games' Make Something Unreal Live competition, Mendel's Farm was selected by the Wellcome Trust as a flagship title to assist Children in learning genetics and inheritance. Mendel's Farm was designed as a PC based resource management game in which the player runs a failing farm, turning around its fortunes through clever understanding of genetics and inheritance. Mendel's Farm needed to appeal to children, so a colourful cartoon art style was chosen, whilst the genetics control wacky genes which allow for the creation of incredible animals, such as pink-spotted, fire-breathing chickens and glowing, unicorn cows that conduct lightning!
What We Did
---
Mendel's Farm was built in Unreal Development Kit, with a lot of custom modification using Unreal Script (a modified version of C++). The models, textures and animations were created in Blender and Photoshop, whilst the user interface was made in Adobe Flash and ActionScript 3, using Scaleform API to pass data to the game engine. Mendel's Farm was created in the style of a "Farm Tycoon" game, providing familiar game play and objectives which made it less daunting to first time players. However, the main game play loop focuses on breeding animals to create incredible offspring for profit! Each animal contains its own genome, and breeding animals is subject to the laws of Mendelian inheritance, all of which has been tested for accuracy by the team behind the human genome project.
There are two primary game play hooks in Mendel's farm. The first is the resource management game play which sees you upgrading your buildings, researching new technologies and expanding your farm, all whilst trying to balance your finances. The second hook is the selective breeding of animals which helps the player discover new traits, diseases and mutations. This can drastically affect the value of each animal, so it is vital to learn selective breeding! Supplementary content includes a range of missions, fox and mole attacks, alien abductions, crop management and harvesting, fertiliser and food usage, feeding and caring for your animals, and much more!
Results
---
Mendel's Farm has been very warmly received by the gaming community, developing a cult fan base around it. Due to budget constraints, Mendel's Farm was eventually signed-off for release as an early access title, going on to win multiple awards, becoming Steam Greenlit, and being featured in some of the biggest magazines, websites and trade shows in games. In addition, thanks to a partnership with the Sanger Institute - the team behind the human genome project - Mendel's Farm is also an excellent resource for learning genetics and inheritance, with the scientific accuracy being checked and confirmed by one of the world's leading authorities on genetics. To download the game for free, please click here.