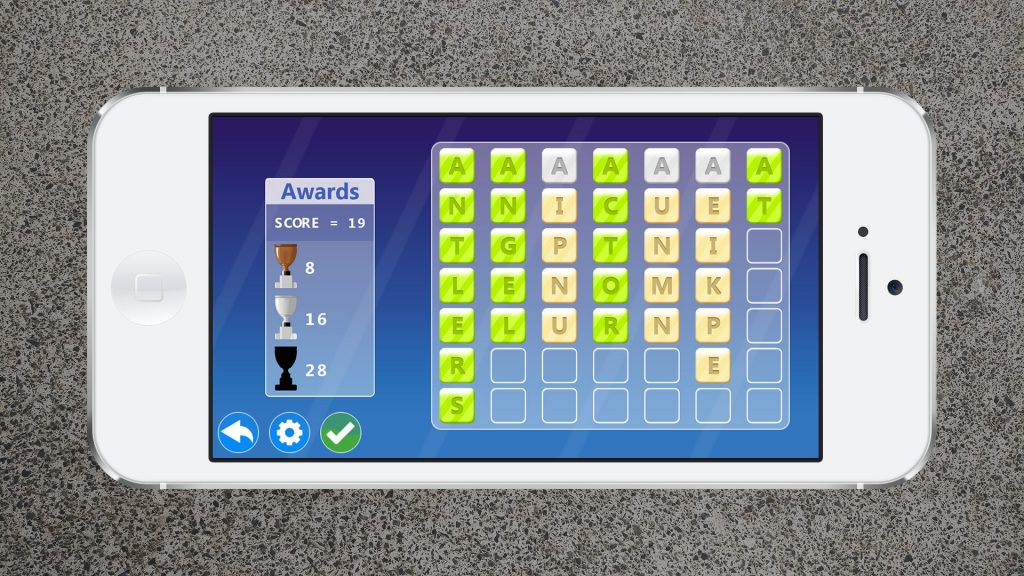 The Brief
---
Alphataire came to us with a exciting new word puzzle game, which played as a cross between Scrabble and Solitaire, with players scoring points by rearranging letters to form words in different columns. Alphataire had previously used a separate developer, but they found the app too difficult to produce, necessitating a move to a more development focused team. Alphataire's ideal app would be an Android and iOS release, featuring multiple unlockable game levels and starring their company mascot, Alphy! The original UI was deemed to be unusable, and a new interface would have to be designed and implemented. Lastly, Alphataire would also need a marketing website and a free "lite" version, to allow players to try the game before purchasing it.
What We Did
---
Alphataire provided a previous code base from which to work, but upon inspection, this was quite unoptimised and buggy, and would only export to Android. Consequently, we advised start from scratch in Construct2 to allow us to export to both Android and iOS. The original game board was wider than the average phone screen and featured dragging and dropping around columns. We designed a new touch based system and condensed the game board making it much faster and easier to play, with the board expanding to match the screen size. We also proposed developing a level for each letter, with random letter tile placement and trophies for each board, making it infinitely replayable. For the marketing tasks, we produced a simple but elegant single page WordPress site to advertise the app, whilst the free "lite" version of the game featured all game play aspects, but only allowed access to the first three levels.
Results
---
Alphataire is a fun little app available on both Android and iOS platforms. The UI and graphics overhaul made the game far more attractive and a lot easier to understand and play! To date, the app has been well received across both Android and iOS, featuring a five star rating on both. Additionally, Alphataire have very generously partnered with the Victoria Education Centre in Poole, offering a portion of all sales as charitable donations to assist disabled youth.